Residential Wine Cellars – A Statement About You, Along with Technical Notes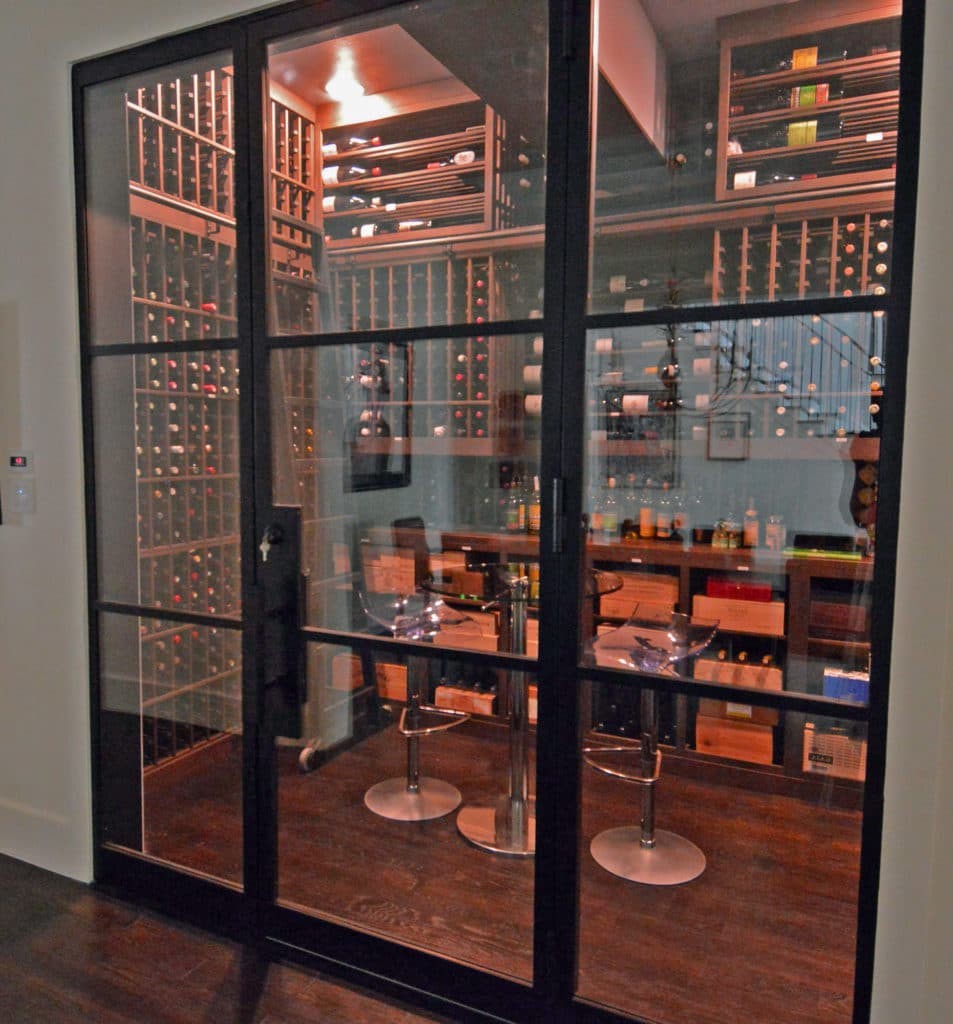 A residential wine cellar is a statement about both you and your home. It talks about the things you value, where you see yourself in society, it is a very visual demonstration of your tastes and interests.
Residential Wine Cellars – A Statement About You
It is a place to entertain and share special extravagances with close family and friends. Most dedicated wine rooms are custom designed and are as individual as their owners. A custom wine cellar is a place that few people visiting your home will forget.
Designing a home wine cellar requires both technical expertise as well as the ability to create art.
Technical Notes – Custom Wine Cellar Construction
On the technical side, the room must be converted in its function, from a room that is climatically just another part of the home, to a fully separated climate controlled environment. To do that requires the right kind of insulation, vapor barrier, dedicated refrigeration system and means of ensuring isolation through special sealing doors and related equipment that is up to the job.
We have seen many instances were wine cellars have been added to a house by the non-specialist. In most cases a lot of shortcuts were taken. These will often not be immediately apparent other than in reduced initial costs.
A year or two later however, the problems start to make themselves felt. These can include condensation, mold, warping doors, refrigeration systems running excessively and or breaking down.
These problems can be avoided when you work with a company that has a solid technical knowledge gained through experience over many years, in the specialist business of the construction of home wine cellars.
At Custom Wine Cellars San Diego, we have a long track record in the building and maintenance of residential wine cellars.
The Art in The Design of Home Wine Cellar Construction
A wine cellar may be designed for maximum storage capacity or it may be intended to be a visual experience were owners and guest linger to examine, discuss and even sample collector vintage wines. Some wine cellars are built to hold quantities of case lots of wine while others are more orientated to feature unique high end vintages.
Increasingly given the nature highly visual uniqueness of home wine rooms, they are designed with glass doors and even full glass frameless walls. When designed in this way they can transform any home into a memorable experience.
Special features with concealed lighting, wine cellar racking built to show off the owner's collection, metal display forward wine walls, waterfall displays are just a few of the artistic elements a good designer can integrate to create art in your home.
The Residential Wine Cellar as an Investment
A custom wine cellar will often be the first feature a realtor will market about your home. It will attract more people in for tours than a media room, a pool, or even a gym. This is because its elegance, uniqueness and implied intimacy will stand out amongst most other homes. Wine cellars speak to buyers more effectively than other custom spaces because they are such a unique visual and visceral experience.
Developing an emotional connection with potential buyers is the key to selling your custom home. People make decision based on their emotions then afterwards justify their decisions with logically rationales. Residential wine cellars almost always generate an emotional reaction in the people that see, enter and experience wine in them.
Save
Save